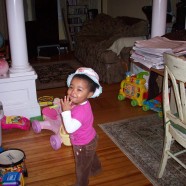 Apr

12
Tags
Related Posts
Share This
March 27, 2010
A LETTER TO THE NEW PRAGUE HIGH SCHOOL MARCHING BAND
It's amazing how what we do affects others and the things we think are unimportant, end up having the most meaning.
Now, visiting New York City is a highlight for everyone and although I live in the Elizabeth area and love where I live, Elizabeth, New Jersey is not one of those "must-see" places in anyone's itinerary. It's just a place.
But not that day.
That day, March 27th, 2010, my family was walking around the Jersey Gardens Mall and arrived just in time to hear you begin your performance.
If you look, you'll see that in the videos there is a precious 19 month-old baby named K who had lived with my family for a year — a year to the date as a matter of fact. She loves Classical Music. You can tell by her applause throughout your performance and how upset she got when we had to leave.
To offer some personal background, my family had attempted to adopt K and make her a permanent member of our family. Well, things didn't work out that way. After a long process, the Division of Youth and Family Services (DYFS) had decided to remove K from our home and unite her with a maternal aunt.
We were heartbroken. The heartbreak was compounded when we were called on March 23rd by DYFS and told that K would be removed from our home two days later on March 25th. We wouldn't be able to have friends and family say goodbye to K. But through some providence, on March 24th, we were granted an extension to have her stay with us until March 29th. We were blessed with four extra days with our precious K.
Four days.
96 hours.
5,760 minutes.
345,600 seconds.
We were going to cherish every one of those moments.
On that Saturday we were preparing things for K to take with her and needed to go shopping. We thought we were going to be in and out of the mall.
Like I said, K loves music. In the year she was with us, there would be music throughout our house all the time and she particularly enjoyed Classical Music, her favorite piece being the 1812 Overture by Tchaikovsky. When we thought she was going to be with us forever, that was one of our far-off plans, to have her see a live orchestra and experience music in it fullest and purest form. When we found out she would be leaving us, we thought that opportunity had passed us by.
Then, miraculously, there you were. The New Prague High School Marching Band. All the way from Minnesota.
I don't know what the members of your marching band thought about the city of Elizabeth, or the mall, or the group that gathered around them. It wasn't New York, it wasn't a concert hall, it may not have even felt important.
It was.
You gave my family a wonderful gift we thought we would never experience. We enjoyed live orchestral music with our daughter. In those last moments of being together, you miraculously gave us something that will last a lifetime.
So to all the members of the New Prague Marching Band, we thank you. You granted a priceless wish to people you never even met, let alone knew. Even though as years go by they might forget their trip to Elizabeth, that family will never forget them or you. If your members choose not to continue with their musical pursuits, let them know that they represented their school, their town, and their music with distinction, honor, and beauty.
And remind them to never take any moment for granted.
Not one practice,
not one performance,
not one opportunity.
They all mean something.