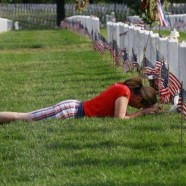 May

25
Tags
Related Posts
Share This
Memorial
Andreotta, Glenn U., 20
On April 8, 1968, 20-year-old Glenn Andreotta was the door gunner on a Hiller Raven helicopter in Vietnam who was killed while taking enemy fire.
He never made it home.
His name is on panel 48E, line 50, on the Vietnam Veterans Memorial in Washington, D.C.
He is just one of the estimated 1,354,668 American soldiers, sailors, airmen/women, Marines who died while serving our country in the military.
But to understand something about Memorial Day, you might want to know about something Glenn did about three weeks previous, on March 18, 1968 to realize sacrifices military men and women make.
For what we believe in.
For what America stands for.
Glenn Andreotta was part of a three-man helicopter crew led by 24-year-old Warrant Officer Hugh Thompson, Jr. and Glenn had just jumped out to grab a little boy injured by gunfire to get him back on the helicopter. The small village this took place in is My Lai.
A quick primer on My Lai. For some time, the Viet Cong set up camp in My Lai at night and threatened the villagers with death if they did not shelter them so they could attack American soldiers stationed and patrolling some distance away. In the morning the VC would pull back further into the jungle and the Americans would come in asking where the Viet Cong were, knowing they had been there the night before.
On that March day, American soldiers, tired of day after day of being attacked night after night by the VC and scared for their lives had reached their breaking point, but they crossed the line. They began burning the village to the ground started killing the villagers – unarmed villagers. Throwing grenades into huts filled with people, stabbing men with bayonets, shooting kneeling women and children in the head.
Hugh Thompson Jr., Lawrence Colburn, and Glenn Andreotta were returning to the village after having made two suspected Vietnamese soldiers surrender earlier that morning and delivered them for proper military interrogation. Flying in they realized something was wrong. There were dead Vietnamese villagers everywhere. Then they saw who was doing the killing – American soldiers.
Instead of taking part or even just keeping their distance to claim non-involvement, Thompson intentionally landed the helicopter between American soldiers and villagers to get as many wounded Vietnamese as possible away to safety. He turned to his men and gave one order as he got out, "Y'all cover me! If these bastards open up on me or these people, you open up on them. Promise me!"
Just like that.
These men had seen and experienced the same things the soldiers on the ground had, but somehow, amid the hell they were in, still upheld "true faith and allegiance" to the Constitution, willing to risk their lives against all enemies, foreign and domestic.
A hard pill to swallow.
They stood up against what was wrong, even if that wrong was understandable.
Hugh and Glenn and Lawrence got a lot of flack for what they did. And just three short weeks later Glenn – again, doing what he was there to do, protect and stand watch – was KIA: Killed In Action.
So on this day when people recall those who gave their lives and have the luxury to debate the reasons about the wars those men and women fought and died for (money, property, oil, power, etc.), it is important that for whatever reason these men and women ended up fighting, when it came down to it, their actions represented what America stood for.
To stand up for those who cannot stand up for themselves.
And those of us blessed to not get that phone call about a friend or that knock on our doors about our son or daughter, father or mother, brother or sister, should take time to reflect on those who have.
1,354,668.
That is the estimated number, as of today, of men and women who put on a uniform, served our country, and faithfully discharged the duties dying somewhere other than home.
From Davis, Isaac (30) to Andreotta, Glenn U. (20), to Dawson, John M. (22) and Salazar, Anthony E. (40) who died on April 8, 2015 and April 15, 2015 respectively during Operation Inherent Resolve.
They all meant something to someone. Their sacrifice means something to us all.